Green Building Council Award
Officina dell'Ambiente won the Business Leadership in Sustainability award at the first Green Building Council Italia Leadership Awards 2015. The award, assigned by a prestigious panel of experts, was given to Officina dell'Ambiente for its efforts in bringing a real and tangible contribution to environmental sustainability, through the manufacturing of a range of recycled products that can be consciously and systematically used in LEED projects, as part of building materials and products that incorporate post-consumer recycled content.
As winner, Officina dell'Ambiente was also automatically admitted to take part in the World Green Building , recognising parties, on a world scale, that are leading the charge in supporting sustainable building and whose entrepreneurial spirit contributes to adding value to Green Building.
ISO 14001 Certification and EMAS REGISTRATION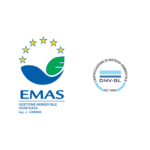 Officina dell'Ambiente's plants are UNI EN ISO 14001 certified and have obtained the EMAS Registration, the most important level of voluntary environmental certification recognized in Europe.
In consideration of the innovativeness of its production cycle, Officina dell'Ambiente, despite not winning it, was among the final candidates for the 2007 European EMAS Award.
The award, organized by the European Commission, since 2005 is considered the most prestigious international recognition regarding the management of resources and wastes.